This weekend our team at MotionMobs attended StartUp Riot in Atlanta, GA. StartUp Riot consists of multiple events, one being a weekend hackathon called MAKE. This weekend approximately ten teams competed at MAKE for a few prizes and a chance to present their idea at the StartUp Riot SHOW, an event where each team presents their idea to several groups of investors.
This is an overview of our weekend:
Friday at 12:45 we arrived at the downtown bus station in Birmingham, AL ready to start our journey to Atlanta on Megabus, one of the sponsors at StartUp Riot. After arriving at the bus, the driver informed us that the dates for our trip were incorrect. At this point, we had already loaded all of our luggage on the bus, and we were ready to start our weekend in Atlanta. After realizing their mistake with our tickets, we called customer support to get it worked out as quickly as possibly. [imagine the worst customer service experience you've ever had] The representative admitted their mistake, but explained that their "system" was slow. So, he was unable to fix our tickets in an efficient manner. Looking around the bus, we saw a large number of available seats. While still on hold with customer support, the bus driver made us remove our items from the bus. Reluctant to leave the bus, knowing we would be late for the hackathon, we begged to sit in the available seats on the bus. The bus driver then threatened to call "911". As he picked up his phone to make the call, we gathered our items and left the bus.
Needless to say, Megabus made for an interesting start to our weekend. Megabus did offer us free tickets for a future trip. At first we were reluctant to accept, but I'm hoping our next experience will be much better.
Ok, ok, on to the good stuff:
Friday night: We created Bubble Chicken, a 2D space based physics game for the iPhone.
Later the same night: Angry Birds releases Angry Birds in Space. Knowing we had to change our idea, we spent the rest of the night formulating a new plan of attack for the weekend.
Early Saturday morning: Souris was created.
By the end of the weekend, we had created a customized 2D physics engine, the character development and storyline of Souris, the first level of the game, a teaser video for the game and a simple website showcasing that video.
The Results: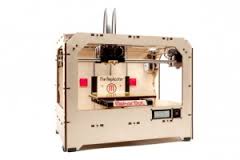 MAKERBOT! Makerbot is a 3D printer with "plastic ink" that will actually draw and create plastic objects. Still confused? Check out their website.
Our Makerbot was provided by MailChimp. In case for some crazy reason you've never heard of MailChimp, they are the best web-based email marketing company. Their product is easy to use and free to most small businesses. They have a library of beautiful template designs for email newsletters. Their website walks you through the process of exactly what you need to know, and it is quick and easy to use. Best of all, MailChimp is very sensitive to any users receiving their emails. So, they can be a little strict about how you obtain your email list, but it is all for the best. If your users are simply signing up for a newsletter on a website, MailChimp has a signup form that you can quickly embed on your site.
Of course, we can not say thank you enough. We've yet to see a Makerbot in person, and we're already counting down the days until it arrives.