How much privacy do mobile app users have?
Apple has made significant strides in pressuring app developers to be transparent about how they are sharing mobile user data with third parties and for what purpose. Apple's App Tracking Transparency policy includes disclosures from developers and "nutrition labels" for consumers to see what data is being collected and shared. Mobile apps must ask users for permission to track their data across third party services, but the majority of users are declining to allow tracking. Fewer than 33 percent of iOS users opt in to data sharing with third parties.
As both users and developers, MotionMobs fundamentally supports a user's right to data privacy. Every user should be assured their data is secure and only shared with their direct consent. We develop all of our mobile apps with privacy by design. We built GuideSafe, Alabama's COVID-19 exposure notification app, directly in alignment with this concept.
With millions of free applications and services available to consumers, users become the product. If the users aren't paying, then someone is paying to access those users. This frequently means advertising. Digital marketing and advertising has become highly targeted due to tech companies' ability to track users across websites and apps to create a comprehensive profile of the user. Most of this happens without the user's knowledge or consent. Until now.
What does App Tracking Transparency look like to users?
While it sounds like a great thing to implement, the program is confusing to many users. In an effort to standardize data types, Apple has lumped all user data into a number of categories.
If you aren't a developer, some of the categories don't make any sense when compared to app functionality. For example, Waze was originally flagged for collecting "health and fitness data" which was actually accelerometer data to detect when a user had parked their vehicle. Facebook collects "sensitive data" without disclosing specifics, but Apple defines sensitive data to consist of "racial or ethnic data, sexual orientation, pregnancy or childbirth information, disability, religious or philosophical beliefs, trade union membership, political opinion, genetic information, or biometric data."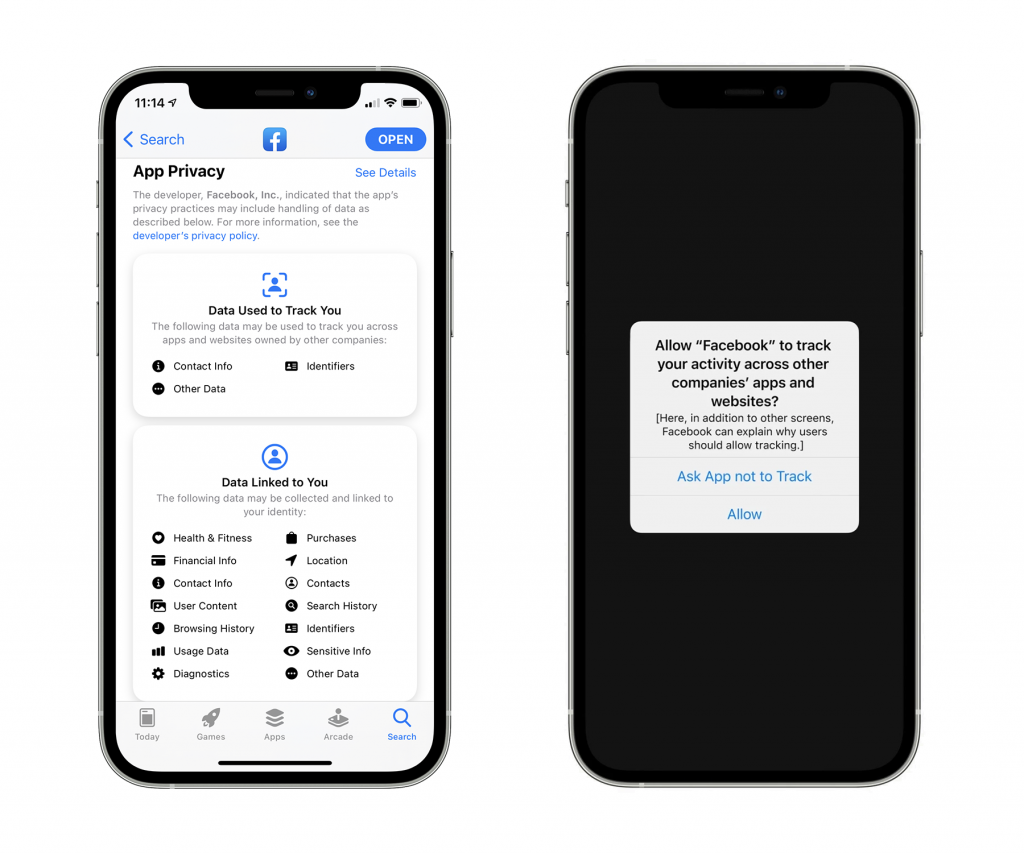 Privacy nutrition labels on App Store listings can be lengthy and vague, especially on apps that run significant ad networks. As a result, most users won't bother to consider what data is shared or used. The only thing obviously presented is the consent request upon app launch, with two options to proceed. The developer cannot customize the bold text that reads "Allow (app name) to track your activity across other companies' apps and websites?" Smaller text can be customized, but that relies on a user to actually read it. The decline option is presented as the natural, safe, and logical option, written as "Ask App not to Track." The consent option is simply written as "Allow." (Is this a dark pattern? Maybe, maybe not.) For users who have the data sharing setting turned off on a system level, they never even see the request.
As a result, we're not surprised at all that the majority of users decline permission. We tend to decline it on our personal devices, too. Privacy wins.
What does App Tracking Transparency mean for developers and app owners?
Apple has always been strict about following developer guidelines to the letter. If a mobile app violates developer guidelines, that is grounds for removal from the App Store. No one is immune, which was proven in August 2020 when Apple yanked Fortnite from stores when it accused Epic of violating developer guidelines.
If an app developer collects and shares user data with third parties after the user declines permission, the mobile app would be risking removal from the App Store. No mobile app developer wants to risk that, so all mobile developers have to play by the rules.
Historically, MotionMobs has helped clients implement Google Firebase Analytics and similar tools into their custom applications and software products because they're versatile and customizable. Our clients save time and money in development by leveraging the services already available by Google, and they get great data to make informed decisions about growing their apps.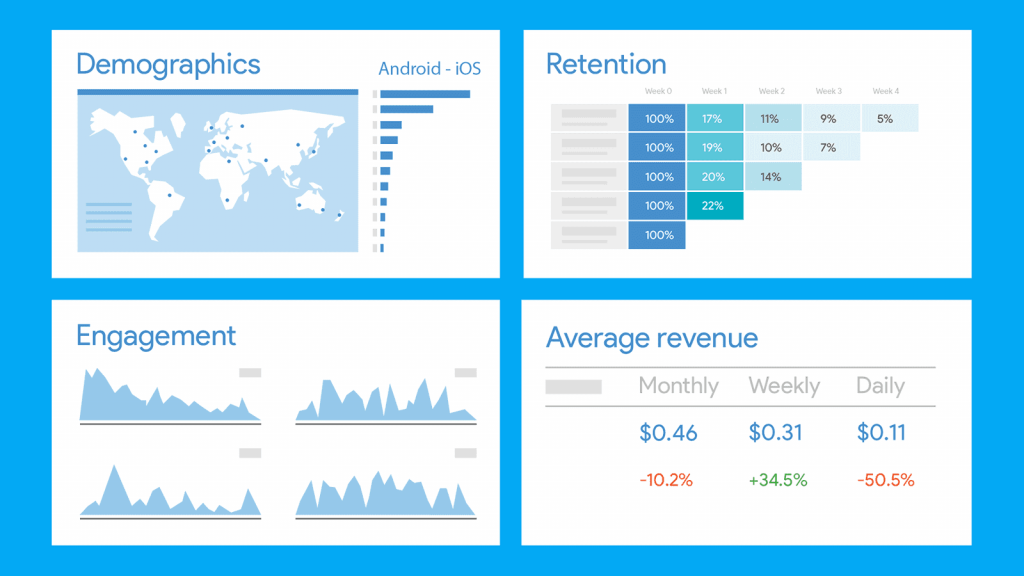 But Google is a third party that uses data for advertising purposes. App Tracking Transparency means that app developers can't use Google Firebase Analytics to measure engagement, traffic, or performance of their apps when the user declines to share with third parties. The data in a dashboard like Google's would only be reflective of those users who consent to share, which is less than one-third of users, as noted above. That's not representative of an app's user base, and not useful in making informed decisions.
Not to claim we're legal or competition experts, but this feels a bit anti-competitive. App developers can't freely use affordable third party analytics tools when most users decline to share their data. Mobile developers and app owners are now forced to choose between Apple's built-in App Store Connect Analytics or custom build analytics that keep data in-house if they want accurate and actionable data about app usage.
Does App Tracking Transparency work?
For a program based on transparency at its core, Apple's App Tracking Transparency seems to be strangely opaque. Regular users don't know how to interpret disclosures or requests for permission. Developers don't have control over how their mobile apps ask for permission to share data with third party services. Analytics services are unable to provide enough comprehensive data to compete with Apple.
If Apple's goal was to shut down Google and Facebook tracking iOS users, then App Tracking Transparency is very effective. For smaller developers, like MotionMobs and our clients, App Tracking Transparency is a hurdle to collecting meaningful data about how to grow and improve a mobile application.
While increased disclosure about how mobile user data is shared and monetized is absolutely in the best interest of the consumer, Apple's App Tracking Transparency is producing an environment where app developers are either flying blind or relying wholly on Apple. For app owners who have both iOS and Android applications, this also forces additional development efforts. We can build custom analytics, show clients how best to use Apple's analytics, and segment tools between platforms, all with respect to a user's right to privacy, but that doesn't mean every small app owner has the resources to do so.
If your custom mobile app is struggling with App Tracking Transparency and third party analytics, we can help find the solution that's best for you. Let's chat.